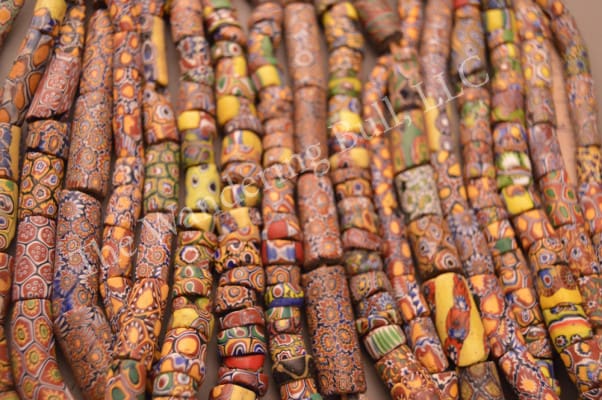 Native American Trade Beads History
The first European explorers and colonists gave Native Americans glass and ceramic beads as gifts and used beads for trade with them. Native Americans had made bone, shell, and stone beads long before the Europeans arrived in North America, and continued to do so. However, European glass beads, mostly from Venice, some from Holland and, later, from Poland and Czechoslovakia, became popular and sought after by Native Americans. Europeans realized early on that beads were important to Native Americans and corporations such as the Hudson Bay Trading Company developed lucrative bead-trading markets with them. The Hudson Bay Trading Company was an organized group of explorers who ventured into the North American continent for trade expeditions during the 19th century.
The availability of glass beads increased, their cost decreased, and they became more widely used by Indians throughout North America. Ceramic beads declined in popularity as glass bead manufacturers came to dominate the market because of their variety of color, price, and supply.
Venetian Millefiori
Millefiori beads get their name from the Italian words "mille" (thousand) and "fiori" (flowers), together meaning "thousand flowers." It refers to the multi-layered wound mosaic glass beads which were produced in Venice beginning in the early 1800's. They were produced by creating flowers or stripes from glass canes, that were then cut and molded onto a core of solid color. They are commonly known as "African Trade Beads."
Padre Beads
Padre Beads are a variety of wound glass trade beads originally imported across the world especially to Africa and the Americas by Spanish Missionaries, Monks, Friars and Traders who used them as a form of currency. The name Padre Bead is derived from the fact that these beads were worn by Spanish priests who were called "padres" meaning "father" in the Spanish language. Some of these beads may have been part of the rosaries that Catholic priests would carry. Franciscan priests gave the beads to Native Americans for their good work and to convert them to Christianity. The period during which the Padre Beads believed to have been first used is between the 16th and 18th centuries.
The original Padre beads were opaque with a sky-blue or a turquoise shade. However, African bead sellers and collectors pasted the name 'Padre beads' to all opaque turquoise-blue glass beads, even those that were Venetian or Czech. This means Padre trade beads come in all shapes, sizes, and styles since they are not made in one place.