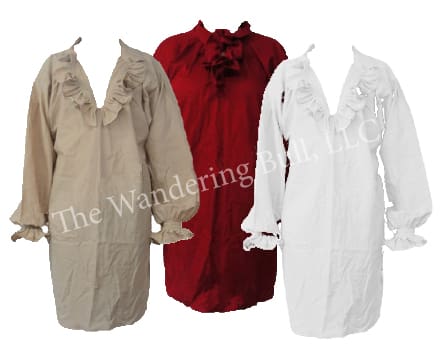 Early American Men's Shirts
Early American Men's Shirts served a purpose. It was made in a pullover style with one button at the neck. They were worn as an undergarment to absorb bodily dirt and oil at a time when laundering clothes and washing the body were not a frequent occurrence. The shirt was knee length which was necessary because the shirt was also used as a night shirt and was the only form of underwear worn by most men.
In general, the cut of the shirt up through 1840 remained unchanged from the shirt made in the early 1700s. By the early 19th century, the shirt had become an essential part of European men's dress.  Because of the straight cut, the shirt is made quite wide and full, so that the wearer has freedom of movement, making it a very practical garment for frontier life.
Shirts as Status in North America
Wealthy  men wore linen, cotton and muslin shirts as a symbol of status. Working men wore shirts made from coarse, undyed linen and wool flannel. Both men and women commonly wore European style shirts.  Plain white linen shirts were the most common, but Fancy Ruffled Shirts were more desirable.
The shirts were often traded by the Europeans to the Native Americans for furs.  By the 1770s, furs and skins were more valuable as trade items than as material to make clothes. Although the Native Americans kept themselves clean, they were notorious for never washing their shirts. Shirts were often worn, unwashed, until they literally fell apart. They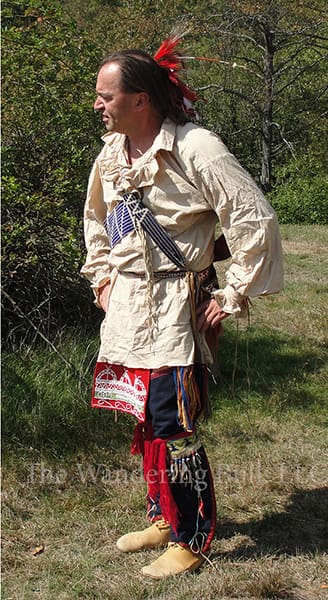 wore their shirts their own way, generally untucked.
The Ruffled Shirt was standard wear for both colonists and Native Americans from the French & Indian War until well after the Revolution. After 1850, men's shirts were made with an opening all the way down the front with buttons closures, but this style was not common until the end of the century.
The Wandering Bull, LLC – Native American Craft Supply store online carries historically inspired shirts for men & women.